Alex1087
biography
Soo yea my name is Alex, i've been playing bass since summer of '08. So im not good but i dont think im horrible at it. I've was in a band for a couple months (not working out too good). I've been doing a fews covers since im self-taught. I play a variety of alternative/rock/metal/gothic metal. I'll try to post some stuff but my recording stuff is a pain in the ass to get right sooo bare with me, plus bass is a pain to record. =P (damn inaudible instrument). The Bass I have is a BC RICH WARLOCK. My amp is a Crate BR-50. The recording method i have for now is Sonic Foundry Acid Pro 4.0....and to get the sound im using various audio cables into my mic jack....sooo really Homemade... i plan on getting a line 6 or something recording device for my laptop.
2

December 7th, 2009 + 11:12 AM
·

Alex1087
idk if its already covered....but i've tried countless time to add my friends on here to my Favorite Artist list, but it never seems to add anyone, it just redirects me to how to add people to favorite by clicking the Heart + logo....Anyone else have that problem? or Can someone help me fix?
14

November 1st, 2009 + 5:11 PM
·

Alex1087
I dont know what to choose.....im new to the bass world and i would think the processor would be a good way to have tons or effects already there plus a drum track built in some units....im just sooo confused lol Can someone please striaghten out my confusion lol? Any equipment recommendations are welcomed to help me out....

Rig Using:
CrateBT50-amp
BC Rich Warlock Platinum w/all custom tuners and bridge, upgraded electronics to use 18v(but using 9v right now) with EMG pickups.
1

March 25th, 2009 + 10:03 PM
·

Alex1087
Okay soo I have the Crate BT50 amplifer. It has a 12" 8ohm 50 Watt RMS. I was wondering what would i have to do to be able to run a 4ohm Car Audio Bass Subwoofer, or should i give up before ruining my amp? (i have like 4 Subwoofer rated for 1200watt max rating sooo no biggie if i fry one of those =P)
1

March 25th, 2009 + 9:03 PM
·

Alex1087
I think its pretty much impossible to get a perfect fit hardshell for my bass. im looking for something from esp themselves, but i haven't asked the local esp retail shop if esp makes a case for this bass guitar. I found a couple random sites that list my AX style bass, but i dont trust them, cuz u would think Musician's Friend or other major suppliers would carry it. If someone know anything lemme know.
http://espguitars.com/basses_ax.html
---This is what my bass looks like....Happy hunting for Hardshell
6

February 25th, 2009 + 12:02 AM
·

Alex1087
Anyone have/use this for recording? just wondering if this is worth the $200 to get as a form of recording my bass and my fellow band members with....im kinda new with recording stuff... im using Sonic Foundry's Acid Pro 4.0 and pluging my bass into my mic port to record now.
Alias:
Alex1087
Status: Offline
Threads:
7
Posts:
8
Songs:
1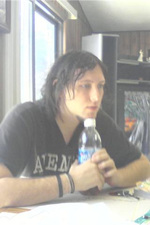 Joined: February 23rd, 2009
Last login: December 07th, 2009
My Messengers
| | |
| --- | --- |
| AIM: | cureingthepain |
| ICQ: | n/a |
| Skype: | n/a |